The Art of not becoming a fucking 08-Mustermensch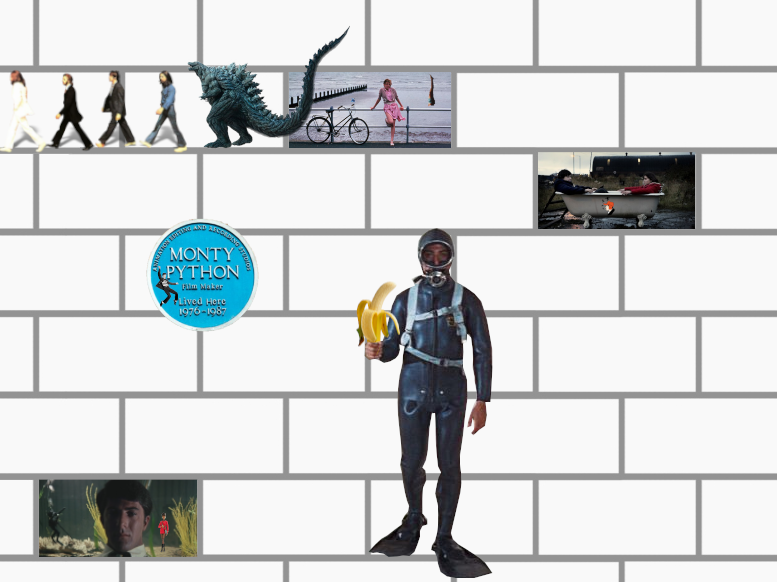 Humor is the smartest transportation next to a bicycle. It can carry your entire life.

Munich Globe Bloggers
(Hier geht's zu: Ketchup in the Sky – Episode Zero)
1967. Auf den Plattentellern eiert Sgt. Pepper's Lonely Hearts Club Band. Im Kino läuft The Graduate. Und in Liverpool tanzt Beat Poetry aus den Regalen durch Cafés und Parks: The Mersey Sound von Adrian Henry, Roger McGough und Brian Patten. Wie schön ist die Jugend! Powered by Aufbruchstimmung, Humor und Melancholie. Okay, manchmal.
Girls are simply the prettiest things
My cat and i believe
And we're always saddened
When it's time for them to leave
We watch them titivating
(that often takes a while)
And though they keep us waiting
My cat & i just smile
We like to see them to the door
Say how sad it couldn't last
Then my cat and i go back inside
And talk about the past1

Freilich kommt irgendwann der Point of no Return, der Zeitpunkt, an dem das Bewusstsein meldet, diese Zeit ist vorbei und wird nie wieder zurückkehren. Einige tröstet vielleicht Hermann Hesses Stufen, ein gereimtes Plädoyer für das ewige Weitergehen, beflügelt vom Weltgeist. Aber das heißt keineswegs, sich das Ziel aus der Nase zu popeln: älter werden ohne erwachsen zu werden; älter werden ohne sich vom Getriebe der E-Welt zahnrädern zu lassen à la Charlie Chaplin in Modern Times.
Always have your humor ready. Humor hilft ähnlich zuverlässig gegen das Erwachsenwerden und -sein wie Knoblauch gegen Oldschool-Filmvampire. Humor relativiert. Deshalb beginnt guter Humor bei uns selbst. Wer sich selbst Dummheiten verzeiht und darüber lachen kann, tut sich leichter damit, über diese unfassbar dumme Welt zu lachen. Humor macht den Irrsinn einigermaßen erträglich. Der andere Ausweg wäre, verrückt zu werden, wie Sam Lowry, die Hauptfigur in Brazil2. Aber lässt sich das willentlich herbeiführen? Eher nicht.
Wie die Beatles sind auch die Liverpool Poets alt geworden – 76 (B. Patten) und 84 (R. McGough) – oder gestorben (A. Henri), doch wir sind überzeugt, dass sie nie erwachsen geworden sind. Auf eine geheimnisvolle Art konnten sie die Schönheit des Nicht-Erwachsenseins bis in ein Alter retten, wo Gespräche und Selbstgespräche sich oft genug aus lästigen Wehwehchen speisen, aus dem Leiden am körperlichen und geistigen Verfall, und am wehmütigen Zurückblicken auf die Zeit, als es noch eine Zukunft gab, und die Gegenwart intensiv war, wild und beschwingend.
Die Liverpool Poets sind quasi Echt-Dudes. Ihren Schleichweg am Erwachsenwerd-Highway vorbei haben sie mit Gedichten und Humor gepflastert. Wir können uns auch mit vorgehaltener Wasserpistole nicht vorstellen, dass jemand, der ein urcooles Gedicht schreibt wie The Day I Got My Finger Stuck Up My Nose3, jemals auf die stinkgerade Erwachsenenbahn gerät.
(Fortsetzung folgt)
Post-its
Roger McGough: My cat and i (Aus: Adrian Henri / Roger McGough / Brian Patten: The Mersey Sound, 1967)
Brazil (1985), Regie: Terry Gilliam; Hauptrolle: Jonathan Pryce
Brian Patten: The Day I Got My Finger Stuck Up My Nose
MGB@Mastodon