Season 1: The Queen, Episode 4/4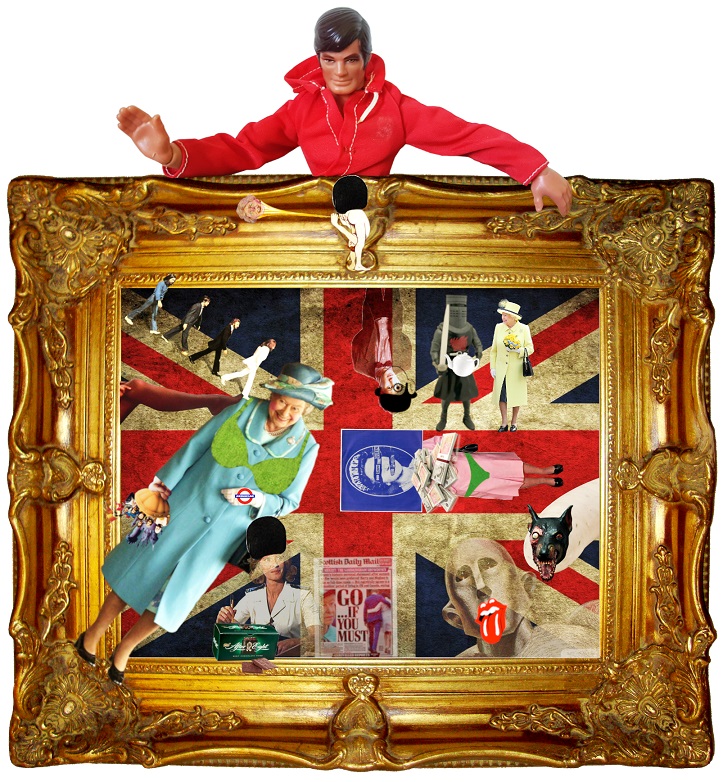 Are you trying to seduce me? Or is this the famous British humour?

Jimmy Walker Jr.
(Here you'll find the prequel: Gin Chats: Jimmy's Face-to-Face-Book, Season 1, Episode 1).
In our final episode we don't lose ourselves in prerambling, we ass-bomb directly into it, teasing just some kickers: Spider Murphy Gang, Clockwork Orange and how to spend some nights in the Tower. With this in mind: Take that, esteemed readers.
Jimmy: Bum fodder?
Queen: Sorry, that's toilet paper.
Jimmy: No civilized savage would do that. Folks would rather ask for one with Maggie Thatcher's face on it.
Queen: You said it, boy. You frickin' said it.
Jimmy: And now for something completely similar. That waving plastic doll imitating you. You like it?
Queen: Hardly. The one I know is solar powered and only waves when the sun is shining. That casts a nasty shadow on my work ethic.
The old sunshine ploy
Jimmy: In this light, it sounds obvious that it seems to be a kind of subversive ploy to ruin your hard-earned working-class-image. What a Waterloogate! My heartfelt sympathies. Do you find comfort in music?
Queen: Sure. I like that Munich Band. Cyder Turfy Bang or so.
Jimmy: Spider Murphy Gang?
Queen: Yeah! Amazing sock 'n' bowl. By the way: What the duck is "Rizefurshloos"?
Jimmy: You mean that song? It's a zip. In this context of course the one you use to open a pair of jeans.
Queen: Typical Bavarians. Always on their way to get laid. Like in those fancy lederhosen movies from the horny 70s.
Jimmy: Your literacy is groundbreaking, Highnessy. What about Queen?
Queen: Bingo! Freddy, Brian, John and Roger – or was it Ringo? – formed my favourite band – after the Beatles and Snyder Surfy Gang of course. I just didn't like them playing God Shave The Queen at the end of their concerts. I have and always had a pretty sharp shave, as you could see if you'd follow me to my playground.
Jimmy: Shag my hovercraft! Hottest spot in the UK. Say hello to anarchy and friends. Are you trying to seduce me? Or is this the famous British humour?
Queen: Come on, Kenny. You'd write a whole frickin' book about it: "I had the Queen".
By Ludwig van's thatch!
Jimmy: (hem hem). Let me sleep on it. By the way I guess you misunderstood the lyrics. In my modest memory the refrain goes "God waves the Queen". Anyway. We overheard that once you almost were shot by one of your palace guards who mistook you for an intruder.
Queen: You can blame my sense of humour for this. From time to time I try to put the guards' alertness to the proof. One of them caught me climbing over the fence and fired a couple of warning shots at my favourite tulips, that crazy bastard. That got him a tiny flat in the Tower.
Jimmy: Cool. We understand that beyond all this royal bullshit demeanour you're a pretty wild girl. Is that why you knighted Jig Muggler, because he dedicated his song Booby Boozeday to you?
Queen: There you have me, lad! I know it's a common way for these young fellers to express their love for someone. But who the doc falls in love with a queen? That's bezoomny!
Jimmy: Mary headless Stuart! You're into that nadsat stuff?
Queen: Yeah! I have a weakness for fancy violence and quirky slang. That's why I'm pretty obliged to sit here with you. Can't apply that nadsat stuff as much in my Bucknham hood.
Jimmy: Whenever you feel like a malenky bid of ultra-violent nadsat chat, give me a buzz. I'm your droog, baboochka.
Queen: And pretty please, with organic sugar and cream on top, don't publish that shit.
Jimmy: Never fuckin' ever. We'll keep it safe in our nuclear blast-proof friendship book.
(The End).