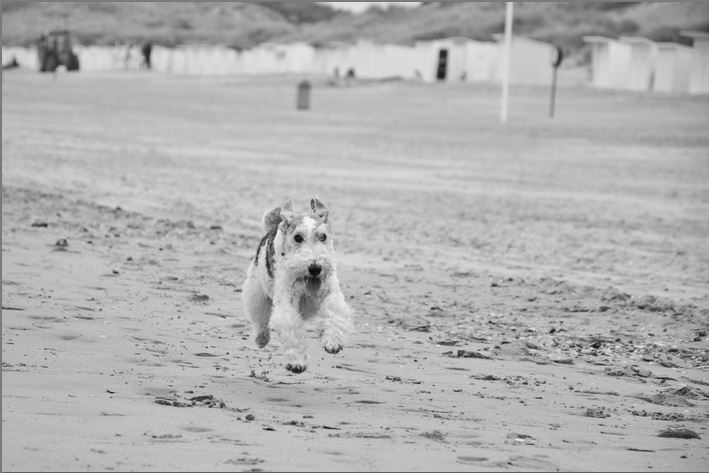 The biggest loss since Winnetou.

Munich Globe Bloggers
Als selbsternannte Erben Tintins mussten wir nicht lange überlegen: This dog makes the difference. Wir holten Polly sofort ins Team. Und auch noch ablösefrei. Zielstrebig und weitgehend unbestechlich schnupperte die Foxterrier-Lady fortan auf den Spuren ihres großen Idols Milou alias Struppi und brachte uns Top-Storys wie normale Hunde Stöckchen. Aus einer mittelmäßigen Gang räudiger Straßen-Blogger formte sie binnen Kürze ein funkelndes Weltklasse-Ensemble. Fortan sonnten wir uns in unserem Spiegelbild nur noch mit Sonnenbrille und eingecremter Haut (Asbestfaktor 76) – sonst wären wir verglüht wie ein kosmischer Hundekuchen beim Einchecken in die Erdatmosphäre. Damit ist jetzt Schluss. We're back to Mittelmaß.
Polly has gone. Und wir heulen wie die Schlossgespenster. Der Chef dachte an Chopins Trauermarsch. Aber dann wählten wir als Gedenkminuten-Soundtrack doch Pollys Lieblingssong Der Hund von Baskerville, performed by Cindy & Bert. Sämtliche Plüschtiere unserer Praktikanten wurden auf Halbmast gehängt. Bei der Knochenkranzniederlegung auf dem Bonner Hundezentralfriedhof Cimetière de Milou schluchzte der Chef: "Polly has left this lousy building called earth. Who will chase through the waves on them beaches now? Who will dance that crazy wild-at-heart-pogo when we come home now? Who will give us that very special Tintin-aura now? It's the biggest loss since Winnetou. Fuck you, Mr. Cancer. Fuck you so fucking much!"
Polly, we miss you!
Deine Munich Grief Bloggers
MGB@Mastodon