Bonking around the world in 50 years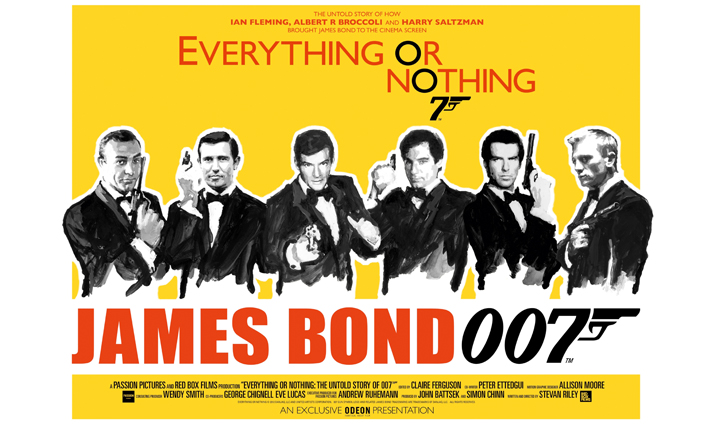 Gentlemen, I'm afraid you've caught me with more than my hands up.

James Bond: Diamonds are forever (1971)
"Mein Name ist Bonk, James Bonk."
So ehrlich ist er dann doch nicht. Britisches Understatement? Power-Camouflaging? Gentleman-Gedöns? Fakt ist: Am 5. Oktober vor 50 Jahren landete der Schranktürspion mit der licence to screw auf Jamaika, um Miss Taro und Honey Ryder mit seinem Dr. Go zu beglücken. Seither poppt sich Mr. B. auf der Leinwand um die Welt.
Istanbul, Venedig, Miami, Bahamas, Hongkong, Las Vegas, Rio, Indien, Aserbaidschan, Hamburg, Kuba, Island … und auch mal im Weltall, wenn's gerade reinpasst. Selbst Hugh Hefner in seiner Bunnyfarm wird da ganz schrumpelig vor Neid. 00-Diggler treibt es ja nicht nur mit Deko-Hasen. Bisweilen zieht Old Shaggerhand smarte Edu-Bunnys über den Tisch ins Bett. Wir zählen (ohne nachkucken!) zwei Pilotinnen, eine Astronautin, eine Atomphysikerin, eine Programmiererin … Und einige Spy-Kolleginnen.
Das Geschäft mit Bang Bang brummt wie ein Duracellvibrator. Sextourism sells. Und weil er offiziell Brite ist und die Briten ebenso offiziell spinnen, ist der 5. Oktober 2012 Global James Bond Day – was auch immer das sein mag. Vielleicht eine Art Internationaler Tag der offenen Hosentür. Den Jubiläumsfilm 50 Years of James Bond: The Movie gibt's auf Youtube.
Get lucky at your bangerversary, Mr Bonk!