Sniffing into York shop … give the dog a bone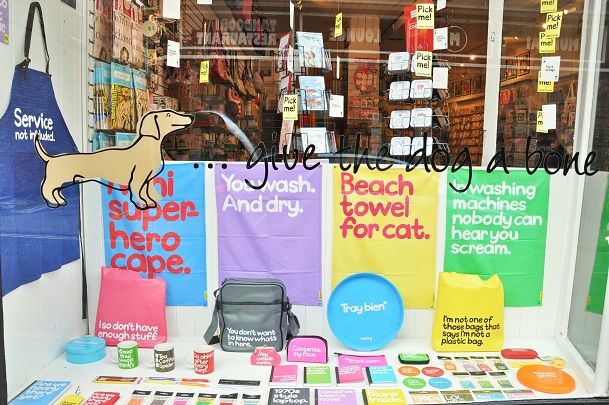 Long time no see.

Brillenputztuch von … give the dog a bone
Fossgate ist vermutlich eine Übergangsgasse zwischen Muggel- und Zaubererwelt. Einige der Läden verkaufen magische Utensilien – mehr oder weniger heimlich. Jede Wette! Und die Geisterdichte in York ist sogar deutlich höher als in Hogwarts. Gefühlt haben wir quasi damit gerechnet, hier über diese schräge Hütte zu stolpern.
"Sometimes, too much drinking isn't enough." Unterschreiben wir sofort. Wie fast alles in diesem fröhlichen Laden. Auf dem Frisbee steht "Throw away". Das Täschchen für Lippenstift und Co. sagt "Contents: my face". Und das DIN-A5-Notizbuch outet sich als "1970s style laptop".
… give the dog a bone ist architektonisch etwas weniger imposant als das York Minster. Dafür ist der gefühlte Seelenheil-Faktor um einiges höher. Tintin, sprechende Wecker, kochende Schürzen, weckende Tassen. Einfach himmlisch quirky. Hätten wir Geld, wir würden diesen Laden sponsern. Zum Glück nicht nötig. … give the dog a bone kuckt wie ein Dackel, tanzt wie Struppi und läuft wie ein Windhund.
Location: 17, Fossgate, York, UK. 5-10 Fußminuten südöstlich des York Minster.